Travel with Company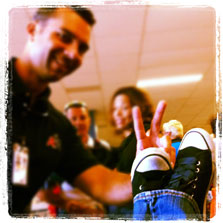 It started as a 'normal' Wednesday. I woke-up before sunrise for what promised to be a really long day. Nonetheless I wanted to do it all.
I was amazed to arrive at the Natatorium only to find myself and the coach sharing a lane. All the 'Arizonians' were absent and for a second, I wonder about the sanity of my decision to practice on 'travel day'. By the end of the swim session I was in heaven.
There is something about swimming that has a therapeutic effect on me. While swimming, silence is only broken by the sound of the breath and every movement requires that mind-body-breath connection that yogis search for. What has taken me years to attain in the mat, happens naturally in the pool. I can even hear the soft and endless chant of my mantra as the water splashes over and over.
Afterwards, I went to teach my last yoga class before departure. I'm always amazed that since I came to Puerto Rico this has always been my first and last class to teach during my travels. It is also the class I'm most attached to. Don't get me wrong, the class is challenging for me. The space is not what any yoga teacher would dream-off and the energy of the gym is a bit off for yoga. Plus my students, which I love, come-up with some new challenge for me every day. However, as soon as we close our eyes I feel that we enter a secure and sacred space that allows us to become One.
The day was followed by planes, trains and automobiles... and lots of card games. I'm not used to travel with company and even though I had a great time, I didn't have time (or made time) for my quiet recharge... something that continued throughout the week.
I arrived to Arizona feeling content, yet very very tired.
Wicked event of the day: My shoes broke after passing TSA. They ended-up in a trashcan in SJU while I wore Arianna's kicks until AZ.
A Very Cold Bike Ride
The mission for the day was simple: slow ride to recognize the bike route for the Ironman. I trembled for the first hour of the ride and felt fear for the first time. How am I going to ride in this super cold conditions while still wet from the swim? This question hunted me until race day.
Later on we had some fun with a billboard, eat some Asian food, drank a beer, got our official race package, shopped around and felt exhausted on bed.
Wicked event of the day: I had a flat tire. Oh yes, a few days before the event, I flat on my $80 tubular. Which I don't know how to change, nor do I have the muscle power to do so. I started praying that that wouldn't happen on race day.
The Girls Are Here! & Sneaking A Race On 'Day-Off'
During breakfast all I could hear, even while trying not to, were the guys sharing their predictions, tips and comments on the IM to come. And it happened... The sweet sweet words: 'can you please change the topic?!' Elsie and the rest of the wives had arrived. Thank goodness! Now someone will get them away from their fixation and save us all from having to listen!
But they couldn't save us from speed and competition. We manage to sneak-in time to race go-carts in K1 Speed. So much fun! We strapped-on a face 'sock' and a full face helmet, ready to race each other.
In the first race, Mandy kicked our asses; we celebrated his victory and took note. In the next two go's Team Hernandez reigned supreme! There were some hardcore crashes and a few members of the team got a little bitten-up. Why? 'Cause we are so damn competitive! You could see in our eyes that we all wanted to be first, fastest and smarter. Why? 'Cause in our crazy heads it was a premonition on the day to follow.
I manage to get the fastest single lap in the last two races, which were good enough to put me at the top of the podium both times, even though Mandy got the fastest average speed! Something he didn't liked a single bit! Before looking at the race scores I knew which lap was my fastest, because something happened once I relaxed and let go. Just as in yoga, when I allowed my mind to go still, by breath to quiet and my body to just move through the motions, I felt a sense of peace and with it speed. Instead of a frown I got a smile and the curves of the track seem to straighten.
Wicked event of the day: The last crash let two members of TH slightly hurt... and gave them a good excuse to execute poorly in the IM. On the given time, both of them used it.